We've all seen movies where characters spend their time inside a country club but have you ever visited one yourself? If this is your case, then you might have a general knowledge of what a country club is, but you don't have all the details put together.
Even so, the general information you get from movies is enough for most people that have no curiosity to find out what's on the other side of the main entrance doors of a country club. However, for the few people that want to give a country club membership a try, they should first know more about what the membership means and the rules they should abide by. The article you will find below will offer you all the information you need to know if joining a country club is for you or not.
What Is a Country Club?
Country clubs are private membership-based organizations for social activities, recreation, golf, and other sports. Most golf clubs offer impressive facilities and professional tennis courts, golf courses, dining options, and more.
While some of them like to call themselves golf clubs to emphasize golf playing activities, others call themselves country clubs. There usually is no difference between a golf club and a country club.
The Expected Expenses
A country club is a privately owned organization and you will usually have to pay to join as a member. These fees are what will enable the club to offer all of its amenities and activities to the members, pay for its staff and cover the maintenance and upgrades of the facilities.
The Initiation Fee
In order to become a full-time member, most clubs will have you pay a one-time expense called an initiation fee. This fee is usually the biggest expense you will have to pay throughout your membership. In most cases, you will lose this fee completely if you leave the club, but there are instances in which it can be refunded in part or in full, based on the club's rules.
Periodic Dues
Along with the initiation fee, you will also have to consider the periodic dues, which will be required on a regular basis and will ensure that your membership is in good standing. These are usually smaller than the one-time fee and will be anywhere between just a few hundred dollars and a few thousand dollars each month.
Additional Expenses
On top of the initiation fee and periodic expenses, you will also have to take into account any additional charges required by the club. As an example, some clubs will charge for the usage of lockers and carts on-site. You will also be required to pay green fees each time you invite a guest to come along with you if the club allows members to bring guests inside. There are also bigger fees called assessments, that will be required to cover renovations or other considerable expenses of the club.
Will Joining a Club Come With any Benefits?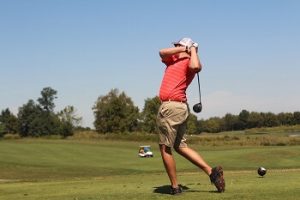 There would be no point for people to spend big amounts of money to pay for the membership of a country club if there wouldn't be any benefits to take advantage of. You might not need to take advantage of all of the benefits that come with the membership, but some of them will appeal to you, for sure. Some amenities are common among all of the country clubs, but there are a few specific to each club, so you should ask about everything you get with the membership before joining.
Golf Privileges
Most people will join a country club to be able to play golf at their discretion. Most golf clubs won't require you to book in advance and members will usually have priority on the tee times. As you might have already heard, country clubs usually have the best golf courses, due to their emphasis on quality.
Private Classes
Most clubs will have golf professionals readily available to teach members to improve their skills. When you join a country club you will get access to such classes either free or for a small fee.
Dining Facilities:
You will usually find one or more restaurants at each country club. This is usually a luxurious place where you can take your family after a day of playing golf.
Clubhouse Usage
At most of the clubs, members are able to rent the clubhouse and surrounding facilities for private events like wedding receptions, birthday parties, or work-related events.
Personal Service
At most country clubs, staff members will be more than delighted to help you with anything you need and you will always be greeted with a big smile. Employees will be sent periodically to check on you to make sure you are taken care of.
Do Country Clubs Have Internal Rules?
As you know, most organizations will have a clear set of rules. When it comes to country clubs, these rules can be pretty overwhelming at first. It is usually a good idea to read all about the rules of a club before joining, to make sure that you can actually abide by them while still having a good time.
Some country club rules might be:
Business Talk – Most country clubs are a good place to meet powerful people and extend your network, but at the same time, to protect their members from people always trying to pitch them something, they don't allow you to talk business all the time and will have quite a few restrictions in this area.
Bringing Guests – Bringing guests will usually be limited both in the number of people you can have with you and in the hours where outside individuals are allowed in the club.
Gender Mixing: You will be forbidden in some country clubs to mingle with the opposite gender while dining or playing golf. There are a few more exclusivist country clubs that don't even allow women to join or come as guests.
Phone Usage: There are rules usually on when and where you can use your phone, to make sure that people won't talk loudly on the phone while others are relaxing, or that one member won't prolong a golf game with a long business call.
Dress Code: Most country clubs have strict guidelines in terms of what you can wear on and outside the course.
Most of the rules enforced by the club are designed to make the environment more relaxing for its members. Some clubs are still following the old ways of forbidding technology and splitting up people by gender, so depending on what you need, make sure you do your research before joining a particular club.
While most rules will be written on their website, some are part of the club's culture and won't be written anywhere, so be sure to visit the club a few times before joining or talk to some members, to make sure that you can abide by the rules and that the restrictions won't be too much for you.
How Will You Know Which Club to Join?
Most country clubs, although built on the same ideas, will be slightly different, one from another. You won't know whether or not you really like a country club without spending enough time inside of it. Try to visit the club you want to join as a guest first.
Here's how to find out more about the club you want to join:
Ask a member you know to take you inside as a guest or schedule an official visit.
Find current or past members and ask them about the club.
Ask club representatives about the fees required to join de club and the overall application steps.
Reading the fine print to make sure you know the ins and outs of membership at that particular club.
The very best way to find out how country clubs work is to become a member yourself. Membership grants you access to the people, facilities, and culture of the country club. Be sure to do your homework first, but when you find a club that is a good fit for you, all that's left to do is to sign up.