You can find the Aronimink Golf Club in Newtown Square, Pennsylvania, at 3600 St Davids Road.
The history of the club
This golf club has a lot of history behind it, being founded in the year 1896. The course you will find on this club was created by the well-known Donald Ross but over time, it has gone through quite a few renovations and modifications, becoming quite the test for even the most experienced golfers. Many tournaments have been played on this course, including the US Junior Amateur, The US Amateur, Senior PGA, and the BMW Championships.
It was named after a tribeleader that used to live on the site, on the farmhouse that would later become the clubhouse.
Below you will find the information we found about the membership prices charged at the Aronimink Golf Club.
Item
Price
Monthly Membership
Registration Fee
$38,500
Monthly Fee
$600.00
Annual Membership
Annual Fee
$50,000
Annual Food Fee
$800.00
Membership fees explained
To join the Aronimink club you will have to pay an initiation fee of$38,500. Keep in mind that this won't be the only fee you will have to pay. In fact, you will also have monthly expenses that will amount to about $600 monthly or $7,000 yearly. You will also have to pay a food minimum that will be $800 every year. This information was taken from a local newspaper in Philadelphia, but these prices are always subject to change, especially considering inflation, which is why it is always a great idea to contact the club directly and ask about this.
You might also like our articles about the cost of membership at the San Francisco Golf Club, The Quarry at la Quinta, or Pine Valley Golf Club.
Does the club charge a green fee?
There is no actual information on whether you are required to pay green fees on the Aronimink golf course. Some of the current members and people that got inside the club as guests have often talked about being charged a green fee, but our research hasn't been able to pinpoint any real numbers.
Is the club public or private?
The Aronimink Golf Club is considered a private club and you can only go there as a guest if you are invited by an active member.
Some facilities you can take advantage of while visiting the club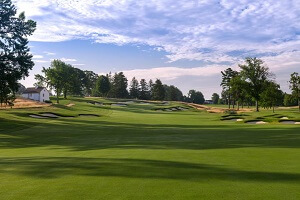 There are some pieces of equipment that you can rent from the Aronimink Golf Club. Among these are also electro-carts and golf clubs. Among the privileges that are open only to active members is a beverage cart for scratch golfers that are used to a lot of walking, a bar, a restaurant, an outdoor pool, and of course, the clubhouse. Also, members also have access to conference halls that can be used for all kinds of events like seminars and meetings, lockers, tennis courts, fitness centers, and more.
You will also find some facilities open for guests, although you might be expected to pay a fee to use them. Among these are storage facilities.
The golf course is considered a rather large one, with 18 holes, built on a pretty varying terrain. It will include a lot of the usual, expected obstacles like slopes of varying sizes, trees, and water hazards. The club also offers different practice facilities. For example, you will find wide driving ranges, green spaces dedicated for starting players that want to have their putting improved, as well as a few chipping greens and a very interesting practice bunker.
Difficulty rating of the course
The Aronimink Golf course actually has a difficulty rating that is based on tees and their colors. Red tees will mostly be for female golfers and will have a rating of 74.7, while the black tees will have a ranking of 74,6 and the white ones will have a ranking of 71.3. You should expect the maximum yardage of the black tees to be 6955 yards.
Contacting the club
The Aronimink Golf Club can be contacted by phone at +1 610-356-8000 or through their official website.