The golfing community around The Quarry at La Quinta is well known. This is a place where residents will enjoy great golfing experiences and other amazing services provided by their clubhouse. What makes golf playing in this club an unforgettable experience is the professional course created by Tom Fazio. This golf course is ranked no 85 by Golf Digest in its 2021-2022 list of 100 Greatest Golf Courses in America.
Below you will find the latest The Quarry At La Quinta prices.
Membership Costs
Although the official La Quinta website has a form you can fill up to receive additional information about the club, when asking about the prices, we didn't receive a clear answer. It is also pretty hard to find other information online around the subject.
You might also like our articles about the cost of membership at the Pine Valley Golf Club, Mayacama Golf Club, and Oakmont Country Club.
We did manage to get in touch with some older members that talked about an initiation fee which would be around $75,000 per individual. You can also register as a couple and the initial fee for both of you will be $90,000, which is only $45,000 per individual. The monthly dues will be around $2,100 for registered individuals, while couples are expected to pay around $2,700 per month.
The club will only accept a total of 300 members. You can also go for a social membership, which has a fee of around $10,000 per year.
The Golfing Conditions
The golf course will start, but also end, in a lavish landscape of gravel quarry, but the overall topography is pretty varied. As you go on with the play, you will actually climb more than 300 feet, encountering all kinds of different elements. You will come across an abandoned mine, a lot of native plants, and a few bronze statues that symbolize the days of the Wild West.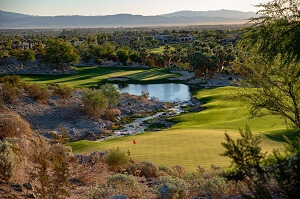 This course is playable by golfers regardless of their skills and will keep you hooked to the game with all the different conditions and play situations. The dynamics of the game will have you try brave shots, without being scared of penalizations if they don't go as you'd want. This is what keeps the game fun and prevents frustration among players.
Even so, you should still expect a challenging course, with great views and an amazing layout. While the game takes you closer to the top elevation holes, you will have an amazing view over the Palm Springs Valley and you'll feel the hug of nature.
You will also come across 4 holes within an isolated valley, touching the Santa Rose mountains. This is where you will be invigorated by a brute calm and tranquility.
An advanced facility where you can warm-up or practice is available, along with other professional services and even caddies.
The Private Clubhouse
The social membership still makes sense if you're not much of a golf player especially because the clubhouse offers plenty of amazing services. Inside the clubhouse, you will find a private dining space, a health spa, but also facilities where you can play indoor tennis. You can also rent one of the 3 cottages of 4 bedrooms, for your convenience and an extended stay. You can get maid or concierge services in these as well.
The Dress Code
Women can wear shorts (The Bermudas should have a maximum length of 5 inches above the knee), blouses with or without collars, and slacks, which are all parts of the acceptable attire. On the golf course, ladies won't be allowed to wear either leggings or yoga pants. Inside the Clubhouse, they will be able to wear Denim, but only the non-distressed type.
Men will be allowed to wear golf shorts or slacks. They will also have to wear a collared shirt that has to be tucked in. Although you will be allowed to wear a hat as long as you keep it with the bill facing forward, you will have to remove it when you go inside the Clubhouse. As in the case of women, men are also allowed to wear Denim in the Clubhouse, as long as it is non-distressed.
The Quarry At La Quinta also has an official website where you can find more information about the club.