The Mayacama Golf Club has one of the most amazing golf courses, with an impressive 675-acre size, designed by the world-known Jack Nicklaus himself. This is why of the main reasons why This golf club is one of the most exclusive clubs in Sonoma County, California. It has managed to get top positions in the top 100 golf courses in the world year after year, even though it is very new, being founded in 2001.
You will find below the latest Mayacama Golf Club prices.
Membership Costs
Although the club itself doesn't advertise prices for their membership levels, you can surely apply and hope for the best. Some reports give a cost for the initiation that would start at $85.000. On the other hand, a member said in a Quora thread that from his knowledge, the initiation costs were around $125,000 during the 2008 recession.
You should also read our articles about other Golf Clubs in California, like the Cypress Point Club, or the Riviera Country Club.
The same reports show that you can apply for a Mayacama Private Residence Club Membership, which comes with a fractional ownership interest of 1/10, and will offer you 28 nights guaranteed in one of the 3-bedroom villas/residences or the 10 one-bedroom casitas on the property, along with other benefits. You can also request a membership that would give you access to unlimited stays, although this will only be possible based on the availability of the residences. If you want to become a full member and also own one of the villas on the property, then you should be ready to pay close to $3 million.
We also stumbled on an older report, from 2012, that said that memberships at this club are priced at around $135,000. This was, at the time, considered a very small price, considering that the club, throughout its short history, had a time when memberships were upwards of $250,000.
At that time, the equivalent of 1/10 interest for the residences meant a sum of $350,000 and enabled the owners to have access to the bough residence for 3 weeks each year. At that time a 1/5 interest package was also available, and it gave access to the residence for 6 weeks each year. The 1/5 interest was priced at $595,000.
Known Types of Memberships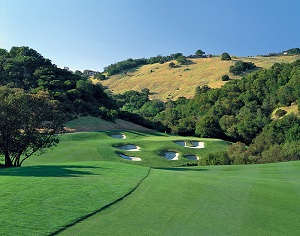 As of today, all of the social and golf-related memberships are still available, although you will have to receive an invitation to apply to join. You can choose between 4 different memberships:
Vintner Membership – This type of membership will have to pass through the Mayacama Vintner Committee, which will review it and either accept or deny it. A suitable candidate should be a winemaker that has a Parker rating of over 92 that can produce wine in the Sonoma or Napa area.
Social Membership – This membership will come with full clubhouse membership privileges, but the golf privileges will be very restricted.
National Membership – This is where things become more serious. This membership will give you full membership status and will enable you to play unlimited golf. This membership is available for people that live outside the 150-mile radius of the club.
Charter Membership – With this membership you will be able to play unlimited golf. This membership is for people that live within 150 miles of the Mayacama club.
The Junior Golf Program
The club has a Junior program, but to take advantage of it you will have to receive an invitation. This program is only available to youngsters aged 12 to 18. Although these memberships are very limited, they still give access to the golf course, one of the Top 100 golf courses in the world.
You can always find additional information about the Mayacama Golf Club on their official website.