The Oakmont Country Club is located in the Allegheny River Valley near the northeast suburbs of Oakmont and Plum in Pittsburgh, Pennsylvania. This is one of the most exclusive golf clubs worldwide, according to a study done by Forbes. It is also one of the oldest clubs in the US, with a history that dates back to 1903. According to Golf Digest, the golf course found in this club is ranked $5th on the list of the best courses in the US. These stats combined, make this club the oldest top-ranked golf course you can find in all of the US.
Over its long history, its popularity has helped it attract some of the most well-known golfers from all around the world. This club has managed to keep its golf course to an undeniable quality throughout the years, its course always being among the top-best golf courses in the US.
In fact, Oakmont Country Club was able to host throughout the years more PGA and USPGA events combined than any other course in the United States. It is also one of the most challenging golf courses in America, which is why it was also added to the list of Top 20 Hardest Courses In America by Golf Digest.
How much does an Oakmont Country Club membership cost?
Being one of the most exclusive golf clubs in all of the US, before we talk about money, you should know that even if you're rich enough to afford the membership, it will be very hard to get accepted. Knowing the right people might not even be enough when we're talking about Oakmont because a simple invitation from a member just won't do this time. In fact, as ESPN reported, over 35% of the club's members have a handicap made of a single digit.
You might also like our articles on membership costs for the Cypress Point Club, Augusta National Club, or The Olympic Club.
For a higher chance of getting accepted, you will need not only current members in good standing to invite and sponsor you, but you will also need multiple positive personal references from successful people. Not to get to the actual money. An article from ESPN talks about an initiation fee of around $75,000, followed by monthly expenses that are around the $500 mark. You will also have to pay for food and drink minimums, but this sum is still unknown.
What will you get for the money?
Aside from being a part of a community of very rich, powerful, and successful members, you will also be able to play on the 18-hole golf course, that was designed in 1903, by Henry Fownes. This course measures 7255 yards from the longest tees and is known to have a slope rating of 147.
Any extra costs to consider?
Members can also invite guests and these guests will have to pay a fee of around $250.
Club Etiquette
Dress Code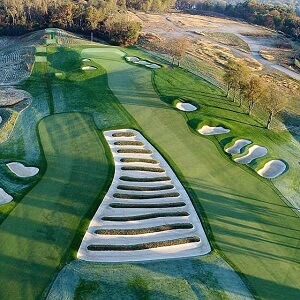 You will be required to wear shorts or slacks, mock turtlenecks or shirts when you go inside the Oakmont Country Club. You should also know that shorts will have to be below the knee, or a maximum of one inch above the knee. You won't be allowed with any type of denim clothing, including jeans on the club's premises. While inside the clubhouse or on porches men will also have to remove their hats. You will only be able to wear open-toed shoes or flip-flops when at the pool.
The Speed of Play
As a member or a guest, you will have to play each round of golf in maximum of four hours. You should be ready to play at any given time and pick up whenever you are out of the hole.
History of Golf Championships Held at the Club
Oakmont has hosted some of the most important golf events. Here is a list of some of the most notable competitions held on this golf course:
The U.S. Amateur in 1919 – This tournament was one of the only two times when Bobby Jones happened to lose a tournament final. It was also one of this game's "majors" from those times. The winner of this tournament ended up being an Oakmont local. After that, Bobby Jones was able to win the U.S. Amateurs five times.
The U.S. Amateur in 1925 – This was the second time Bobby jones managed to win the U.S. Amateur championship.
The U.S. Open in 1927 – It was the very first time the U.S. Open was played at Oakmont. The club hosted 8 other US Opens after that.
The U.S. Open in 1935 – This tournament was when Sam Parks Jr., an unknown name from Pittsburgh at the time, became the most famous golf dark horse winner after he was able to win the tournament against the first-ranked player in the world.
The U.S. Open in 1953 – This tournament was just one of the three majors that Ben Hogan managed to win in this particular year.
The U.S. Open in 1962 – This tournament became popular when the 22-year-old Jack Nicklaus was able to score his first win as a pro, against his rival, legend Arnold Palmer, the number one player in the world at that time.
The U.S. Open in 1973 – What made this tournament unforgettable was Johnny Miller winning with an amazing 8-under-par 63 in the last round. This became a record for all four majors, not just the U.S. Open.
The U.S. Women's Open in 1992 – This was a tournament that was able to unite the best women golfers for the first time to play in a National Championship. Patty Sheehan won this tournament held at Oakmont. It was the third one out of 6 she was able to win throughout her career.
The U.S. Open in 1994 – This one was won by Ernie Els.
The U.S. Open in 2007 – Argentina's Angel Cabrera joined Sam Parks Jr. (1935) and Orville Moody (1969) as unknown players who came out to win the U.S. Open.
The U.S. Women's Open in 2010.
The U.S. Open in 2016.
You can find a lot more interesting information about this club on their official website.