There're only a few people that can say they ever played at the San Francisco Golf Club, so if you are one of them, you can consider yourself pretty lucky. And you are lucky because according to a list made by Forbes in 2021, this club is the 11th Most Exclusive Golf Club in America.
Golf Course Quality
The SFGC is one of the oldest clubs in the US, having a history that started way back in 1895. This is why you should expect them to be pretty snotty.
The golf course was designed by a golf architect that was added to the World Golf Hall of Fame. His name was A.W. Tillinghast.
You might also like our articles on the price of membership at The Olympic Club, The Quarry At La Quinta, or Pine Valley Golf Club.
This architect got his fame from creating over 260 different golf courses, but out of all of them, the most popular was the San Francisco Golf Course, considered his greatest piece. This is also the only golf design you will find west of Texas that was built by Tillinghast.
Nowadays, the course inside the SFGC is ranked 36th in the 2021-2022 edition of the list of America's 100 Greatest Golf Courses by Golf Digest and continues to delight golf enthusiasts of all ages.
Below you will find the latest San Francisco Golf Club prices.
Membership Costs
If you want to find out more about the San Francisco Golf Club online, you won't find a lot of information on its procedures or fees online because this is considered a very exclusive community. The whole process of becoming a member will take quite a while and will start with the hard part of getting an invitation to become a member. It will take so much time that by the end of it, new members won't feel new at all, and will be quite the common sight around the club.
Even so, among its most popular members, you will find famed financier Charles Robert Schwab and Condoleezza Rice, according to official sources.
Some Notable Features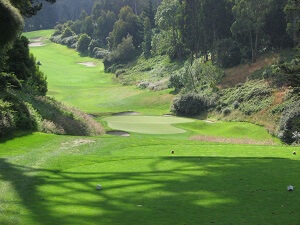 The famous 7th hole on this course is the best par 3 hole and its signature hole. It also overlooks the site known to be the last place where a duel has been held in California, which is also called the "duel hole". This last duel took place in 1859 and was between a US Senator and a Justice of the California Supreme Court, the Justice ultimately winning.
Lining the course will be pine trees and Monterey Cypress trees, these giving an overall breathtaking view. One weird aspect is that this particular golf course won't feature any water hazards. You will, instead, find a lot of large bunkers some soft elevation changes, and gentle doglegs from time to time.
The overall atmosphere is a retro one up to the point that you will think that you have somehow managed to travel back in time. This will be even easier to notice when you get into the men's locker room and see all of the hard-retro vibes. You will surely notice the polished golf shoes, the wooden cubicles, and all of the rows of sepia tones.
You can find a lot of additional information about the San Francisco Golf Club, by visiting their official website.