The members of the Austin country club will be able to enjoy any of the available facilities like racquets, pool, golf, weddings, and other big events. This club has a lot of interesting areas that will be worth the fee of the membership. The actual cost of membership at Austin country club will be around $100,000 and will depend on the factors that we will go through below.
Although the Austin country club has a pretty well setup website, you won't find any information regarding the expected fees for the membership anywhere on its pages. This means that we had to find this information through online and offline research, but also by talking with some active and past members. A membership card at the Austin country club will come with multiple types of advantages.

The cost of the Austin Country Club membership
An active member we got hold of told us that you can get access to a social membership for an initiation fee of $13,500, followed by $240 in dues, while the cost of a resident membership that would come with access to pool, dining, tennis, and golf, along with any other facilities offered by the club, will cost $80,000. There are some other membership levels that you will find detailed below.
This information can also be found online, on reputable websites like ThePricer, but we had to check it ourselves because we don't like to just throw around prices from other websites.
You might also like our articles about other country clubs, like the Chicago Golf club, Caves Valley Golf club, or Los Angeles Country club.
Even if you have the necessary funds to join the club, the process of getting accepted is not as easy as you might expect. If you want to become a member of this club you will need the recommendation of at least three active members of the club. Having no recommendations will mean an instant denial of the application for a membership at the Austin country club.
Facilities found at the Austin country club membership
As a member of the Austin country club, you will be able to take advantage of a considerable number of facilities. Currently, the club is privately member-owned, meaning that the members will receive part of the club's earnings.
While a full member of the club, you will be able to enjoy any of the below activities, without restriction:
Golf: This is one of the main reasons why people want to become members of the Austin country club. The club's golf course is stretched across 180 acres and is very great both for professionals and for newcomers that want to step up their game.
Pool: The Austin club features an amazing pool, one that will make you spend hours in the water. This pool is heated, 50 meters long, and is home to the professional Dolphins swim team. You will be greeted with all kinds of entertainment for the whole family at the pool, especially during the summer months, but adult lap swimming will be available even during the colder months. You can get swimming lessons all throughout the year.
Pickleball: This is a newer addition to the Austin country club and offers members the possibility of playing this game on a professional court. This is one of the features that has received a lot of positive reviews since it was made available to members. This game will require considerably less physical activity than playing tennis would require and the court will be four times smaller than a tennis court.
Tennis:  There are 10 tennis courts, split into two different sections: 8 of them are har-tru, while the other two are on hard surfaces. These courts are made to follow requirements for a professional field and you can even hire professional tennis players to teach you how to play.
Wedding: A wedding is for any couple one of the most important events in their lives together. The place where you have your wedding can make or break the event so you really want to go for the best possible place. Austin country club offers you just this, a place where your wedding will be something you will never forget.
Marina:  Senior, Junior, and Resident members can take advantage of the 57-slip marina along with a boating membership, without being required to participate in boat maintenance.
Clubhouse:  The clubhouse is large enough to offer a big ballroom, locker rooms, meeting rooms, and a few dining areas.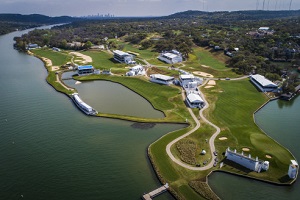 You will also find a pro golf shop where you can buy anything related to golf, from professional playing gear to clothing and souvenirs.
For most people, the price of the Austin country club membership is high, but taking into account everything you will get with the membership card, it will surely be worth it. The fact that you will be around a lot of powerful people will usually be enough to justify the price.
As any respectable country club, the Austin club will also come with a list of very important rules that all members must follow. Consistently infringing these rules might get you kicked out of the club.
Among the most important rules are the ones talking about required clothing and footwear in different areas of the club. These rules are readily available on their official website, so make sure you check them out before going there even as a guest.
What is Austin country club famous for?
The most well-known part of the Austin country club is its golf course. Both professionals and newbies in the golf game have only nice words about the general structure of the golf course. The course is professionally built and capable of hosting tournaments. The pool is also something members like to talk about over and over again.
Most of the membership levels and their prices aren't available online and we were only able to find information on these by talking to an actual active member. In the following table, you will be able to find the cost of all classes of membership at the club.
| | | | |
| --- | --- | --- | --- |
| Types of membership | Initial fee (Before tax) | Monthly dues and capital | Renovation fees |
| Hormel foods premium | $250 | $360 | $40 |
| Hormel foods junior foundational | $250 | $165 | $40 |
| Hormel foods foundational | $250 | $285 | $40 |
| ACC junior foundational | $250 | $165 | $40 |
| Hormel foods lifestyle | $250 | $210 | $40 |
| ACC foundational | $1,000 | $375 | $40 |
| ACC lifestyle | $1,000 | $170 | $40 |
| ACC premier | $2,000 | $430 | $40 |
All of these prices are fixed, cannot be negotiated, and are subject to change depending on the decisions made by the Austin country club. Usually, any costs of renewal will be considered non-taxable. The membership will have to be renewed periodically. Individuals that fail to renew their membership status will usually have their memberships revoked.

Final words

You will notice that becoming a member of the Austin country club and then keeping the membership active is by no means cheap. The initiation fee is pretty considerable and is followed by some other monthly dues. On the bright side, becoming a member will come with a lot of benefits and access to many of the Austin club's facilities.
The Austin country club is very popular in Texas and all around the US. Its facilities are always kept to the highest standards and a lot of important people are active members, including university professors, pro PGA golfers, and state representatives.