The research on the Los Angeles Country Club has proven to be pretty difficult because there's not a lot of information anywhere online. You won't find enough information to get an idea about its membership types and prices not even on their official website. You will be able to find a lot of information about their rules, but that's about it. Among those rules, some of them will refer to the private nature of the club and its policies surrounding sharing of information with non-members:
Members and guests of the Club will be forbidden to talk about the Club's activities, by-laws, rules, policies, events, or membership using any types of media platforms, including social or professional media.
The club doesn't allow any written references about it, its practices, activities, or members, especially references that are bound to become accessible to the public. This includes, but isn't limited to check-ins,  posts, hashtags, or comments.
The Los Angeles Country Club forbids its members to disseminate personal photos or videos of the club and its facilities through social media.
We managed to get some information about the prices of the Los Angeles Country Club membership and you will see everything we were able to find in the next part of the article.
Membership Costs
Even though the official website of the club offers no information about its prices, we did find an article on the Golf Digest website that was talking about an entry fee for the membership of around $25,000. Along with this fee, you will also be required to pay around $100 in monthly expenses.
You might also like our articles about the cost of membership at the Jupiter Hills Golf Club, Bel Air Country Club, or Riviera Country Club.
This might seem like a lot, but once you become a member, you are also entitled to a share of the club's profits. The LA Country Club only accepts 800 members at any given time which translates into a brute value of $20 million.
We also found a discussion on the popular online board called Reddit, where a member said that joining the LACC is going to be a multi-year process from start to finish, which will require you to jump through all kinds of hoops to get accepted.  You will not only have to get sponsored by a member but shepherded and taken by the hand through the whole process to make sure you stand a chance.
The process will involve some extensive interviews with the membership committee and a bunch of letters of recommendation from other active members, along with vetting of your social and professional connections. After you successfully pass through these requirements you will likely have to pay around ~$200k+ for the equity membership, the same member said.
Its History
The LA Country Club has been around since 1897, which makes it one of the oldest country clubs in the US. It also features one of the oldest courses in the country. The architect behind the golf course was George C. Thomas. He was the one who actually put in its bunkering style.
At one point, closer to our times, the North Course needed renovations and this job was taken on by Gil Hanse with Geoff Shackelford and Jim Wagner. They came up with a golf course that is a lot more visually appealing. This will be visible when the club will be host to the 2023 US Open.
The club itself is located in an area considered the most valuable real estate in the world, right in the middle of Beverly Hills. To get a clearer image, think of it this way: You can probably hit a ball strongly enough that it will land in Saks Fifth Avenue.
The Rules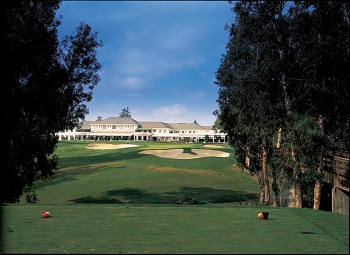 If you're a guest at the club and it's your first time going, then make sure you read, understand, and remember all of the rules on the LACC website. You should know that if you were to make any mistake you will not be the only one that will get om trouble. The member who invited you will also have to pay for your mistakes.
The club has a considerable number of rules, many of them about what men, women, and children will have to wear. For example, men will have to wear tailored slacks and tuck their collared sleeve shirts. They will also have to wear a jacket in the evening.
There are also some pieces of clothing that are considered unacceptable inside The Los Angeles Country Club. Among these are:
Apparel containing slogans
Changing shoes in the parking lot
Athletic type t-shirts, including jerseys
Leggings, warm-up suits, cargo pants, jogging and gym attire
Flip flops, Clogs, or other types of beach shoes
Shorts of any kind, including skorts and culottes
You will also have to abide by the rules about the usage of smartphones and other electronic devices. You will usually be discouraged from taking any photos and you won't be allowed to talk on the phone while on the golf course or in the clubhouse.
You should check the Los Angeles Country Club's official website for more information.