You will find the Baltusrol Country Club In New Jersey, at 201 Shunpike Rd, Springfield, 07081-2160.
The Club's History
The Baltusrol Golf Club came to life in 1895 as a creation of Louis Keller. It was at first a place where Keller used to retreat away from the city with his friends and family. Keller made this land into a heaven for golf enthusiasts around the 1890s when golf started to gain popularity all across the US.
A.W. Tillinghast was employed to create the design of the Baltusrol Golf Course. This was a popular golf course architect at the time.
The Baltusrol Golf Club was host to some of the biggest golf tourneys in the world, including 2 PGA Championships, 4 US Amateurs, 2 US Women's Amateurs, 7 US Opens, and 2 US Women's Opens.
You will find below the latest prices of the Baltusrol Golf Club Membership.
| | |
| --- | --- |
| Item | Price |
| Registration Fees | $150,000 |
| Annual Dues | $18,500 |
| Green Fee (estimated) | $125.00 |
Baltusrol Country Club Membership Cost
If you want to become a member of the Baltusrol Golf Club, you will have to spend a whopping $150,000 in registration fees. This is not all. You will then have to pay around $18,500 in additional annual fees. This means around $1,500 per month.
As someone accepted into the club as either an active member or a guest, you will also have to follow a strict dress code. You should have an approach to attire that is more formal than casual.
You might also like our articles on the cost of membership at the Shinnecock Hills Golf Club, Austin Country Club, or Chicago Golf Club.
Being considered a traditional private golf club, Baltusrol makes considerable efforts to preserve tasteful standards of appearance and behavior. Members that won't abide by the clothing standards will be asked to adjust their attire or, depending on the situation, might even be asked to leave.
Some things to consider regarding the dress code:
Denim or jeans are not acceptable, regardless of their color
Overly revealing attire is forbidden at any time
Jackets are acceptable for men after 6:00 pm
If you don't know what you can wear, just go for something formal rather than casual, and try to dress as tastefully as possible.
Mobile devices
Cell phones will only be used to check on time-sensitive emails, texts, or voice messages, and only in phone rooms. Both members and guests will have their mobile devices on silent at all times on the premises of the club.
Members will also have to use restrooms, the mixed Patio, the Men's Locker Room Bar, or other locker rooms to respond to quick emails and texts. Other than that, mobile devices should only be used to take pictures that will only be intended for private use.
Are there any green fees?
If you want to play golf at the Baltusrol club you will have to pay $125 in green fees.
Is the club private or public?
Baltusrol is considered a private club. You won't be able to apply to become a member without an invitation from an active member. You can go inside the club as a guest only If you are accompanied by an active member.
The Baltusrol Club's Facilities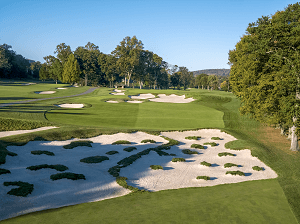 The Baltusrol Golf Club features an 18-hole golf course. Although it was initially made to be a 9-hole course, it went through modifications later on and 9 more holes were added. In fact, the Baltusrol Golf Club features two golf courses, a lower and an upper course, with the upper one being considerably more difficult than the other one. This is why this club is actually said to have a 36-hole golf course.
The director of golf for this club is currently Ryan Fountaine, while the facilities are currently managed by Kevin Vitale.
Difficulty Rating
Depending on the tees, the difficulty rating of the Baltusrol Golf Course will differ quite a lot. It is currently rated at 74.2 with a yardage of 6975 for black tees, 71.6 with a yardage of 6469 for white tees, and 74.8 with a yardage of 5895 for the red ones.
You can contact the club through its official phone number: (973) 376-1900