Adios Golf Club can be found in Broward County, Florida, at  7740 NW 39th Ave, Coconut Creek, 33073. It is situated West of the popular Hillsboro Ranches and North of the Coconut Creek Apartments. A great thing about this club and its golf course is that it is surrounded and circumscribed by residential areas that are very quiet, which makes it easier to practice your backswing.
The History of the Adios Club
The Adios golf club was first opened in 1982. Ed Seay designed the course together with the architect Arnold Palmer. Ed was one of the first sixteen founders of this club.
You can find below the most important fees you will have to consider when joining the Adios Golf Club, including the monthly cost of the membership.
Item
Price

Monthly Membership

Monthly Fee
$5,500.00

Green Base

Base Fee for new players
$150.00
Membership
As with most well-known golf clubs, you won't find a lot of information about the membership levels and fees youwill be hit by when joining the club, but some sources state that you will have to consider a yearly membership of around $60,000, coupled with some other expenses that can reach $4,500 per year. This means that you will have to pay around $5,500 monthly on all the fees combined.
Keep in mind that even if you're ready to pay the necessary amount of money, this exclusive golf club won't make joining very easy, as you will only be allowed to join when you are invited.
Base fee or Green fee for new players
As a new player on the golf course, you will be required to pay a green fee of $125. In the past, they used to enable players to play on weekends for this same green fee, but currently, the website doesn't talk about this possibility.
You might also like our articles on membership fees at the Preserve Golf Club, Aronimink Golf Club, or San Francisco Golf Club.
Is this golf course private or public?
The golf course you will find in this club is private and you will require a membership to play on it. Not only is the Adios Golf Club all-male, but it is also one of the last two sporting clubs that are all-male in all of Florida State. Although Arthur, the current manager of the golf club, has been asked repeatedly why has the club kept the al-male status, he refused to give a clear answer, saying that he believes he would be left without a job if he'd give the wrong answer. No club members have ever given a clear answer or even commented on this issue.
Facilities you can find inside the club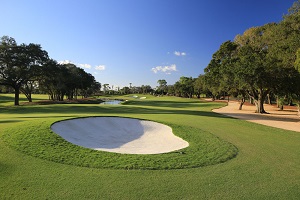 You will find the golf course open every week from Monday to Friday, between 9 AM and 5 PM. The course is closed during the weekend.
The greens and fairways are made of Bermuda grass. This is very common in subtropical and tropical areas, like Florida, of course. In an effort to minimize any damage the greens might receive and to reduce the costs of maintenance, players are prohibited from wearing any spikes.
When becoming a member, you can rent out carts and clubs. You can rent everything from putters to wedges, irons, and even drivers.
The difficulty rating of the course
This particular golf course has a 74.3 rating according to the USGA and a slope rating of 141. As a beginner, you might be a little disappointed when you notice that there are green tees and red tees. Beginners will be disappointed to find that there are red and green tees. In fact, this golf course allows for gold, blue, white, and black tees. The USGA rating for the white tees is 69.6, while the yardage is at 5750.
Golf course resort and community
The Adios Golf Club isn't a gated residential community. However, it still overs golf homes nearby, like grand golf estates, townhouses, condiminium developments, and single family residences. You will find a lot of restaurants and entertainment for everyone, as well as a vibrant nightlife in Coconut Creek. You can also enjoy boutique shopping not very far away.
How to get in touch with the Adios Golf Club staff
If you're already a member, you can find a lot of information dedicated to members about the golf club on their official website.
According to their social media pages, their official phone number is: +1 954-574-1456.