Before we get on to talking about the Westmoreland CC, you should know that there are quite a few country clubs in the US that are actually named like this. The one we'll be talking about will be the Westmore Country Club which is situated in Illinois, in Wilmette, to be more exact. You will find it just 14 miles north of the popular downtown district of Chicago.
Westmoreland Country Club Memberships
This particular club is considered one of the Platinum Clubs in America, occupying the 146th position in a list of a few thousand country clubs that you can find in the US. The actual initiation fee is around $75,000, which is quite a surprise, considering the different services and amenities you can find inside it, which some might even call luxury. Currently, around 580 people are full, active members of the club, which makes the membership almost at full capacity.
The club itself was first opened in 1911, and inside it has a golf course that was designed initially in 1912 by none other than William Watson. It was then changed slightly by A. W. Tillinghast and William Langford at the start of the 1920s, with the final touch during some major renovations done in 1993 by Arthur Hills. Nowadays, this club not only features a popular championship-level golf course, but it also comes with one of the best golf learning centers in the world.
Westmoreland Country Club Features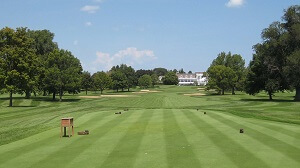 The Westmoreland Club also has an exceptional racquets program, with a tennis shop, 6 Har-Tru tennis courts, and an amazing patio. Not very long ago, a brand-new house for platform tennis was also built, which comes with 6 courts. You will also find a pool cafe, and a championship aquatics complex as well, which is just awesome. During the winter season, there is a slight change in the sports played inside the club, with skeet shooting becoming a lot more popular, especially on Saturdays.
You might also like our articles on membership prices for the Oakmont, Austin, or Los Angeles country clubs.
The clubhouse is amazingly big, sitting at roughly 65,000 square feet, and having a lot of different options and dining venues inside it. You will also have a lot of other dining amenities you will be able to try all around the house, aside from the poolside cafe and the halfway house you can find on the golf course.
The grill room can easily house 86 people, while the bar will seat around 67. The formal dining room has around 38 seats available, while the patio will enable outdoor dining for a maximum of 108 people. There is also a men's locker room grill that can easily accommodate around 50 people, while the popular Crab Apple patio comes with 50 available seats. You can also spend time inside a very intimate cocktail lounge, where there is enough space to fit 16 members. You can also find a place to sit near the fireplace and close to the bar.
You also have banquet facilities which include the Porch, the Living Room, and the Windsor Room and Porch. On the other hand, the Boardroom, also called the Library, is considerably smaller, being able to house only around 20 people. You can also have bigger celebrations, with a bigger number of guests, like weddings, for example. These can be held inside the tented Terrace, which can easily accommodate a maximum of 300 guests.
Westmoreland Country Club on YouTube
Guests
As a guest, you will have to maintain only the highest standards that are expected inside the Westmoreland Country Club's Clubhouse. This is why it is very important to keep in mind that you will be required to have proper attire and act in good taste.
Visiting the Club
There are strict rules pertaining to the acceptable dress code within the Clubhouse and around it, in places like the tennis courts, the pool, or the patios. These should be considered normal for top-tier private club standards. Not only members and their guests will have to be clothed properly all the time while they are inside the club, but children as well. The responsibility of ensuring that children are properly dressed will fall on their parents or legal guardians.
The club's contact information
You can find the Westmoreland Country Club at 2601 Old Glenview Road Wilmette, Illinois 60091. You can also visit their official website, or call them at 847-251-4600.